Posted by
Natalie
on Feb 22, 2018 in
Tree Tips
|
Comments Off

on Tree Services: Better Leave The Tree Work To The Experts
When your tree needs pruning or needs to be removed, you better consider getting the service of a tree care specialist. The reasons why include: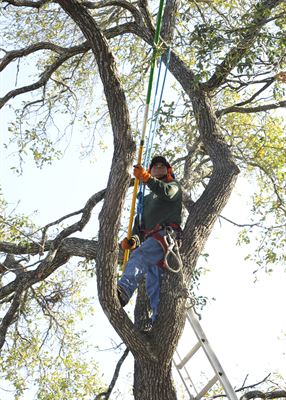 The hazards of tree work are real. Even trained, experienced professional tree workers are caught in the hazards that come with the job. Many are wounded every day and sometimes accidents result in death. Tree work is dangerous.
Risks associated with the use of hand tools. Tools and equipment, when not properly used can inflict pain or wound upon the user. Distraction during the use of cutting tools, even the smallest disturbance, may lead to self-inflicted injury.
Certified tree workers receive professional training to safely and efficiently use hand tools for tree services. Even if they use these tools all the time, unfortunate injuries still happen.
Tree hazards are not easy to spot. Branches may look sturdy but may be weak inside and easily break when a climber put his weight in them. In this situation, the possibility of getting injured is high. It may require a bucket truck or crane to complete the job. Professionals are trained to do risk assessments to determine parts not safe to climb.
Miscalculation. Mistakes can happen for the inexperienced. Miscalculating the angle or hight may cause damage to your property. There are reported cases of do-it-yourselfers dropping trees to their homes, cars and more. Instead of saving money they end up spending more.
Professional tree workers have the experience and equipment to get the job done right. They have liability insurance in case of an accident. You may choose to DIY to save money but because it is a job you are not qualified for things might go wrong and cost you more in the process.